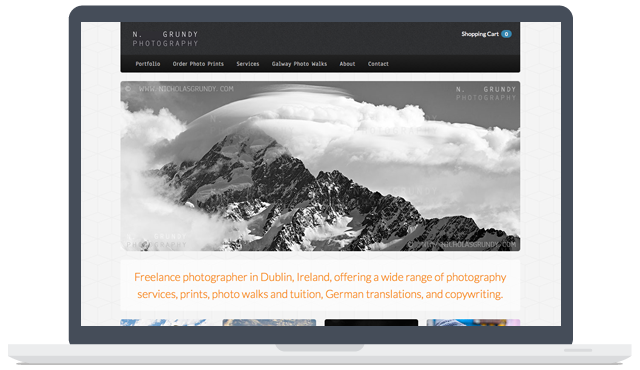 Project Brief
Emily was approached by Nicholas Grundy Photography to create a website showcasing Nicholas' photography and advertising his photography services.
Website Design
The goal for the Nicholas Grundy Photography website design was to ensure that maximum focus is on the photography, with SEO best practices in mind from the very start.
Custom WordPress Theme Development
Emily developed a custom WordPress theme from scratch for the Nicholas Grundy Photography website. This allows the team at Nicholas Grundy Photography to update the content of their website at any time without having to deal with any code.
Responsive Layout
Having a responsive layout ensures that the website will resize to fit any screen or mobile device.
Search Engine Optimisation
The Nicholas Grundy Photography website has been fully optimised for SEO based on their specific keywords. All images, content and the complete structure of the website has been optimised for best SEO practices